Two weeks ago I came home for Rosh Hashana. Knowing my mom's love of chocolate covered candied orange peels, I decided to make my Chocolate Orange Cake for the first night of Chag. But I felt like a plain old cake wasn't enough, it didn't provide the beauty and respect the holiday – and my mother – deserve.  So I decided I'd jazz it up. But how? It's gotta be pareve, because our whole dinner menu revolved around meat. We're Bukharian. We stuff anything that moves with meat. And then it hit me. Why can Tofu cream cheese only be used to shmear on bagels with some scallions, or else used to make a non dairy cheesecake?! Hello, Tofutti… I think you and I are gonna be better friends from here on. Oh and btw… Ina Garten is totally right. Adding coffee to chocolate completely enhances the chocolate flavor.
To make the cake you can use the Orange Chocolate cake recipe I have up or any cake you like.
To make the frosting you'll need:
2 8oz packs of Tofu Cream Cheese, at room temperature
3 cups powdered sugar
3/4 cup cocoa
1/2 tsp instant coffee (Recommended: Elite brand)
1 tbsp orange zest (optional)
Whip the tofu cream cheese with a stand mixer or hand mixer until it becomes smooth. Add in the sugar, 1 cup at a time and slowly incorporate so it doesnt go flying everywhere. Add the cocoa, coffee, and zest, and whip together. Taste it! If you like more sugar, or more cocoa, add it! Refrigerate for an hour before using, just so it stiffens and is easier to work with.
To make the chocolate coated candied orange peels:
1-2 oranges
1/2 cup white sugar
1/2 cup water
8 oz dark non dairy chocolate
Using a vegetable peeler, peel the orange(s) carefully, avoiding the white pith. You just want the orange parts. Combine the sugar, water, and the juice of 1/2 an orange in a small saucepan, and add the orange peels. Set over medium heat and bring to a boil. Stir to make sure the sugar dissolves and doesn't stick to the bottom or burn. Once it boils, reduce to a simmer and let it reduce by half. Once ready, remove the orange peels on to a plate lined with plastic wrap and set aside so they can cool.
Bring a medium saucepan filled half way with water to a boil, and reduce to a simmer. Set a metal or glass bowl over the simmering water with the chocolate inside and stir, allowing the chocolate to melt. You want to make sure the water doesn't touch the bottom of the bowl; the steam will melt the chocolate.
Once the chocolate melts, dip the orange peels in to the chocolate so that they are completely coated. Use a fork to help get the peels in and out of the chocolate. Set onto another plate lined with plastic wrap. Once they are all coated, set aside in a cool place so they can set. You can refrigerate them if you wish, but once you take them out of the fridge the moisture in the air will condense on them just like a cold can of soda, and that may be visually unappealing.
I had some extra melted chocolate and some beautifully fresh raspberries so I decided to coat them too. You can do this with any fruit you like, if you'd like.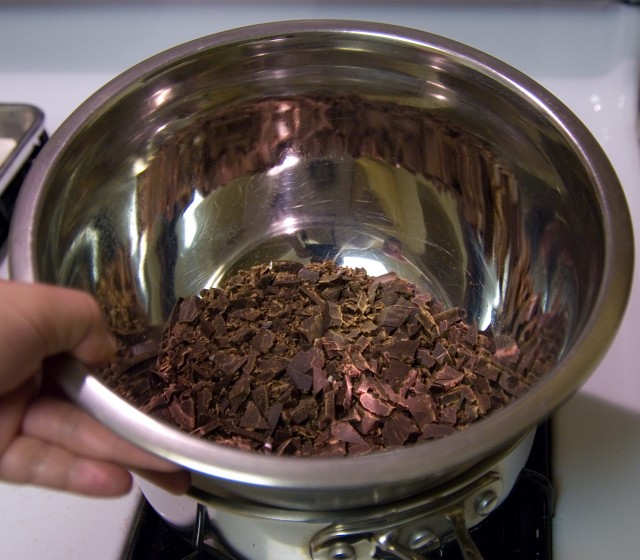 Image via cookingforengineers.com
To decorate the cake:
You can either make two separate layers of cake or cut your cake in half to get layers, or you can leave it whole.
Pour some of the orange syrup over the cake layers to add extra flavor (and moisture if you over-baked your cake). Add some of the frosting on the bottom layer, then cover with your second layer and frost all over.
Chopp some of the chocolate coated orange peels in to strips and sprinkle them over the top with the raspberries. Drizzle any extra melted chocolate over the top as well.
Store in a cool place until you're ready for dessert, and enjoy!